What is people's problem with T4M? Whenever a map gets released with it, it gets swamped with comments from people bitching about the fact it requires a 3mb file (and if you own it on disc then a 5mb lan fix file). What is the logic here?
Before, people loved to bitch about WAW limits and how they suck and ruin maps and restrict us and are needless, etc. etc. Now, there's an amazing mod that basically doubles the limits, and people still find a way to bitch about
that
!? Lmao. Never ceases to amaze how this 'community' finds new and creative ways to bitch about stuff for the sake of it.
I've had absolutely ZERO issues at all with T4M, it does what it's supposed to and I haven't even noticed the fact I have it other than my map actually loads despite having more stuff than it 'should'. I guess that's what people want? They prefer to have a map with less stuff in it than one with more that goes over the limits?
I can understand totally the logic that almost all the maps so far with it haven't 'needed' it at all, and that better asset management would easily bring it down to under WAW limits. Of course, this is laziness and often ignorance on the mapper's part, but tbh there is no reason why everyone who plays (and especially maps) CZ shouldn't have T4M installed already anyway (other than being stubborn).
But for my map for example, I was already at the memory limit, and most of the others were on the brink, and I spent months sorting out the mod and fighting against the limits and what I could and couldn't include. You can take my word for it that WAW cannot fit much/any more than the original Oil Rig, and that almost every single asset loaded is done so because it is required.
Since I installed T4M I've added a few new areas, new sounds, new quotes, new guns, new fx, and loads more shit, and I don't even have to hold my breath every time I load the map fearing that dreaded 'crash to desktop' sound you get.
A lot of the extra stuff I added now isn't 'required' of course, I'm sure the original Oil Rig has more than enough in it for most people, but if I can, why not? It has no negative affect on my game and just makes my life a hell of a lot easier. Tbh, I could probably get away with the all the limits without T4M other than the memory limit, and with the BO3 guns, the image/mtl limit. And, for reference, this is a typical BO3 gun's images -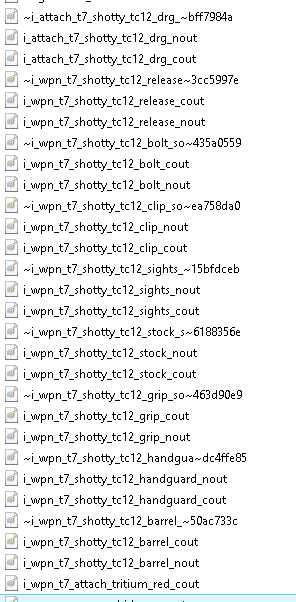 That's one gun without any attachments. Try fit 7-8 of those
on top of
an already fully packed map and not hit any limits. I don't care how good you are at managing assets. Having said that, since most maps aren't using BO3 models and such, there is obviously no need for T4M for the majority of mappers right now. But to have people making idiotic statements like 'I don't play T4M maps' is just ridiculous; why would people not want to have maps that exceed what was previously capable in WAW? BO3 mod tools will be out soon and WAW will soon be obsolete, why not have it go out on a high and have maps that actually even push the T4M limits, let alone the WAW ones?
TL:DR - Why the fuck are people bitching about T4M?