In Black Ops 3 Mod Tools previous to now, you had to use a mod to override most anything that was embedded in the game. After that last update you do not have to do this.
The first step to getting custom perk icons working is to make the icons, you can do this in Photoshop.
Once you have your perk shaders made and exported as a .tiff file format you can drop them into the texture_assets folder in the root of the mod tools.
After this we are going to go into APE I recommend making an entirely custom GDT to keep yourself from losing the perks later on down the road if an update were to happen that would overwrite the GDT. I named mine perk_icons so it would be easy to find.
After this you need to create as many images as you plan to override perks. The settings of the image should be as follows:
specialty_giant_juggernaut_zombies
specialty_giant_marathon_zombies
specialty_giant_quickrevive_zombies
specialty_giant_fastreload_zombies
specialty_giant_ads_zombies
specialty_giant_three_guns_zombies
specialty_giant_doubletap_zombies
specialty_giant_widows_wine_zombies
specialty_blue_electric_cherry_zombies
Then the settings here you should use: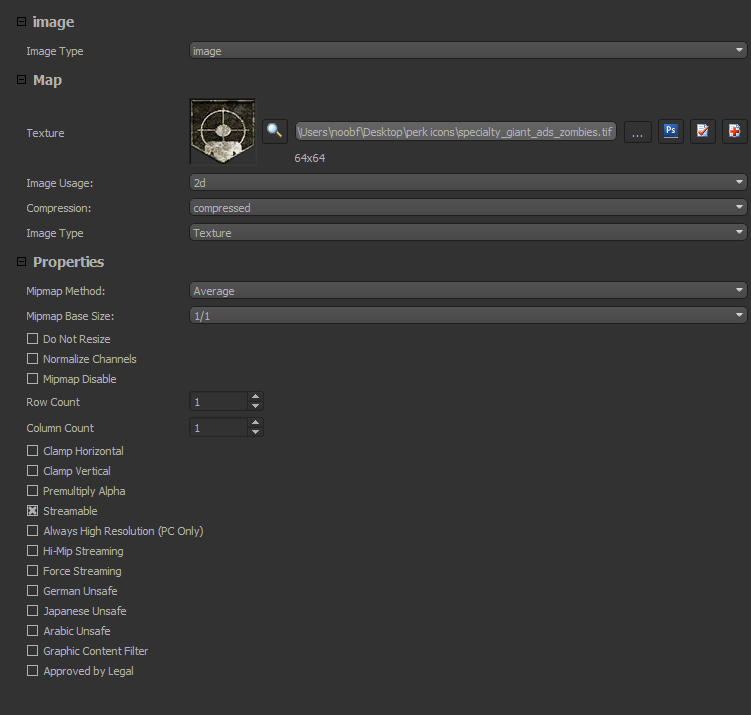 After doing that you should now be good to go with saving APE. Next thing we have to do is edit the zone file. You can find the zone file by right clicking inside the launcher like this:
After you have you zone file open all you need to do now is add these as you would for which perk icons you made:
image,specialty_giant_juggernaut_zombies
image,specialty_giant_marathon_zombies
image,specialty_giant_quickrevive_zombies
image,specialty_giant_fastreload_zombies
image,specialty_giant_ads_zombies
image,specialty_giant_three_guns_zombies
image,specialty_giant_doubletap_zombies
image,specialty_giant_widows_wine_zombies
image,specialty_blue_electric_cherry_zombies
Then you will be good to go.