OK so this is the third episode after the midseason break and some may say that the episode was boring and not a lot happening. I totally disagree with that. I thought the episode was really good.
So the episode starts out with Michonne, Rick and Carl waking up in the house that they have been staying at. The group feels the need to go on a loot run for food and supplies. Michonne thinks its best that Rick sit this one out so he can recoop after that viscious beatdown he got from the governor in the mid season finale. Michonne and Carl go hunting for supplies while Rick rests his battered body. Carl is acting cranky and says he's just tired, but Michonne doesn't buy it and tries to lighten the load by shooting crazy cheese into her mouth. But she gets no reaction from Carl and tells him she had a three year old toddler who did find her funny. Carl is shocked by this revelation and asks why she never told him she had a kid. This is an important moment for Michonne because she's trying to get Carl to open up about his own pain.
Then we come to the scene of Rick sleeping and he is waken up by some commotion downstairs. It seems that some bandits have found them a nice place to rest. As Rick is trying to get up and get out he has to hide under the bed because someone comes up the stairs and lays down on the bed he is under. This was such a tense moment for Rick. Since he has no idea what these guys intentions are or even how many of them they are.
So then we get back to Michonne and Carl and this is the first time we find out her little boys name which was Andre Anthony. She lets carl know that she has never opened up to anyone about him since his death. It is nice to see Michonne open up and each time I find out something new about her it always leaves me wanting more. Then after she seeing the room that was apparently a family suicide room. It breaks her down in tears and Carl witnesses her in this state and thinks maybe she found a dead baby and Michonne lies and says it was just a dog. This finally opens up Carl and we find out the struggle he is having about baby sister Judith ,which he thinks is dead. The scene ends with Michonne telling him with a smile that maybe Judith and Andre are together.
Meanwhile Rick is still under the bed and a man enters the room and claims the bed by killing the man that was sleeping on it. Man he must have really missed sleeping on a king size bed.
So then we get to Glen who wakes up in the back of a flat bed military truck with Tara. He then ask her how long they have been traveling in which she responded about three hours. Then he ask if they passed a bus along the way and Tara tells him yes and everybody was dead. Glen violently beats on the truck window for them to stop the truck. This is when we get to meet our three new characters. A bad ass soldier named Abraham, a scientist named Eugene which by the way has the best mullet since Joe Dirt and one very good reason to start watching the show if you havent already. That very good reason goes by the name Rosita Espinosa.
Its then when we find out these three newbies were on a mission to get Eugene to Washington because he knows the reason for all of this. He explains they had been having radio activity with these people and havent heard from them in a few days. This is not enough for Glenn. He has to find Maggie and as he tries to leave Abraham stands in his way claiming that Maggie is dead. This sends Glen into a rage and cold cocks Abraham. As all this is going down out of no where comes a horde of walkers. Eugene trys to get Abrahams attention in which he was unsuccessful. So he then decides to take matters into his own hands and shows us why he is a scientist and not a soldier. So after shooting a few holes in the gas tank the rest of the group takes care of the walkers and see they no longer have a ride.
So finally Rick gets out from under the bed and makes his way to try and escape the house when he runs into one of the bandits on bathroom duty. They struggle around and Rick finally gets the upper hand and chokes out the guy and picks up a nice little toy on the way out.
So then we come to the part of Abe trying to patch up the gas tank of the truck. Glen walks over and says hes sorry about the truck and walks off in the opposite direction of where they were going. Then Tara follows him and believe it or not so does Rosita. Abe looks in shock but even more so when Eugene follows stating that there were probably no zombies that way. I think thats bs because if it were me I would probably follow Rosita too. Now I guess saving the world is put on hold until they can find Maggie. She got that boy sprung.
So Rick is now trying to escape once again after jumping down on the back porch from the roof. As he makes his move the leader of the bandit group comes out and sits on the porch. He seems to be in good spirits eating his can food and whistling Dixie. So then Rick notices Michonne and Carl coming back from there loot run and he thinks he will have to kill the guy but instead he was distracted by something that was going on in the house. This made for a clean get away. So as the group walks down the tracks we now see that they have a destination after reading on the side of a box car about a place called Sanctuary.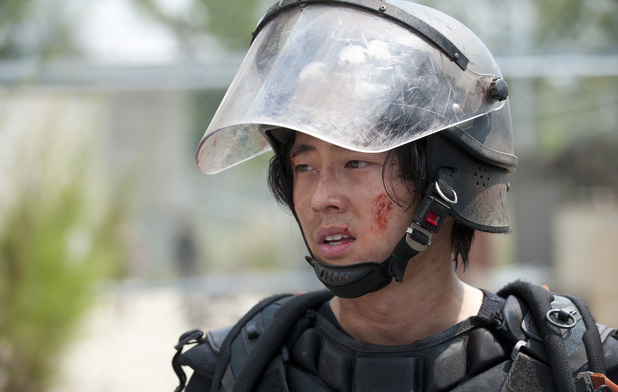 Great episode this week. We finally have another reason to survive other than just surviving. We got new characters and new places to go. I can hardly wait to find out the reason for this outbreak
Discuss the episode here.